Meet galvanized metal -– or "galvi," as we like to call it –- the metal of the moment. If galvi were walking the red carpet, it would undoubtedly be the star. Why? Because it's fabulously versatile. Galvi can play any role: It can transform tabletops, bedrooms, entryways, and outdoor spaces in just minutes.
This season, we're looking to galvanized metal to revamp and renew our existing décor. If you want to make some easy updates indoors and out, take a look below at a few ways to incorporate the galvi trend into your home!

Decorating with galvanized metal is a way to make a big impact, whether it's a subtle addition to your dinner table or a new fixture in your living room, without spending a lot of money. When you're looking to make a change, start with the walls. Hanging Galvanized Letters Wall Art can completely transform the room –- and they play well with existing wall art and décor, so you don't have to overhaul the space.

Sunny days, balmy nights, and opportunities to entertain are just around the corner. To instantly refresh your look, layer galvanized chargers with brightly hued or all-white dinnerware. Or, for a more subtle change, consider a galvanized serving set, giving a rustic touch to any spread.

A pop of color makes a big statement, but a pop of visual texture can be even more powerful. On the coffee table, mix in a large galvanized tray to keep the setup organized and create a space to display your favorite pieces. Worried the look is a bit too edgy for you? Soften the style by mixing in soothing candles and fresh flowers to create an inviting vibe.

With the weather warming, it's time to dust off your outdoor digs to get set for entertaining alfresco. Start small, swapping out old pots for fresh galvanized planters; they'll give the space a rustic-meets-modern feel that lasts season after season. Want to take it a step further? Set the mood for nights outdoors with galvanized lanterns, which look great in every kind of space.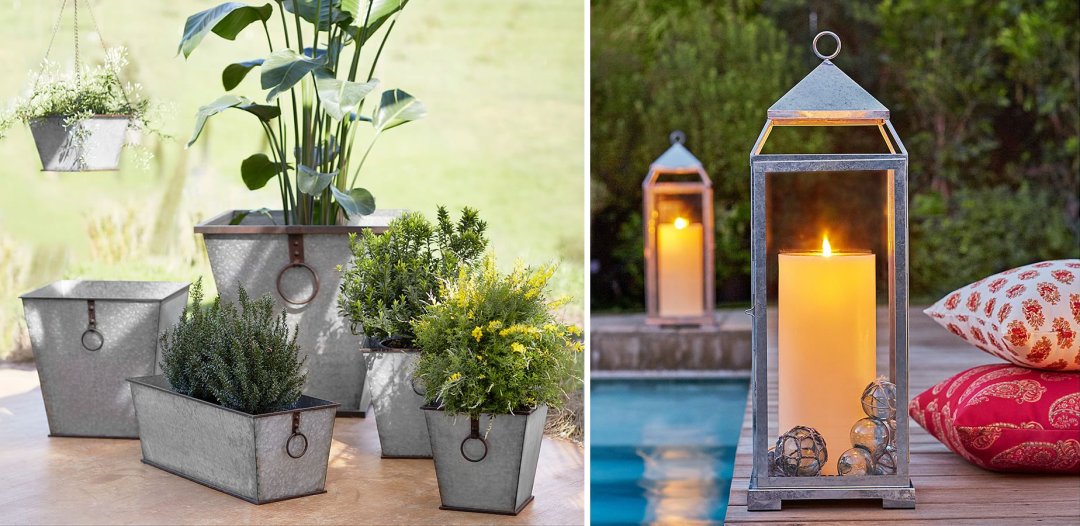 Show us how you're decorating with the metal of the moment by tagging your photos with #mypotterybarn.
Featured Products
About the Author
Ellie Eckert seeks design inspiration from her favorite coffee shops, and she's learned a thing or two in the process. (Embrace succulents! Never underestimate the power of minimalist design!) A Florida Native, Ellie sipped her way through New York and Los Angeles before landing in San Francisco, where she works as a writer.