When the weather is warming up, and you can start spending more time in the sun again, make sure that your outdoor furniture is ready for summer by cleaning up dirt and grime that might have accumulated in the off-season. Furniture from Pottery Barn is designed to withstand all types of weather with ease, making maintenance a snap. No matter what style or material you have, these tips can help you get it all looking like new in no time.
Cleaning Wicker Furniture
Wicker furniture is popular because it is durable and has a neutral, beach-inspired look. To clean it up and get it ready for summer, start by removing the cushions and washing them separately according to the manufacturer's instructions. For the wicker, use a soft bristle brush to loosen and remove dirt that is trapped in the cracks and crevices. Mix a solution of a quarter-cup dish soap to 2 cups of warm water, and use a soft cloth to scrub the surfaces clean. Add a cup of vinegar if you see signs of mildew on the wicker, and rinse everything off with your garden hose before setting it in the sun to dry.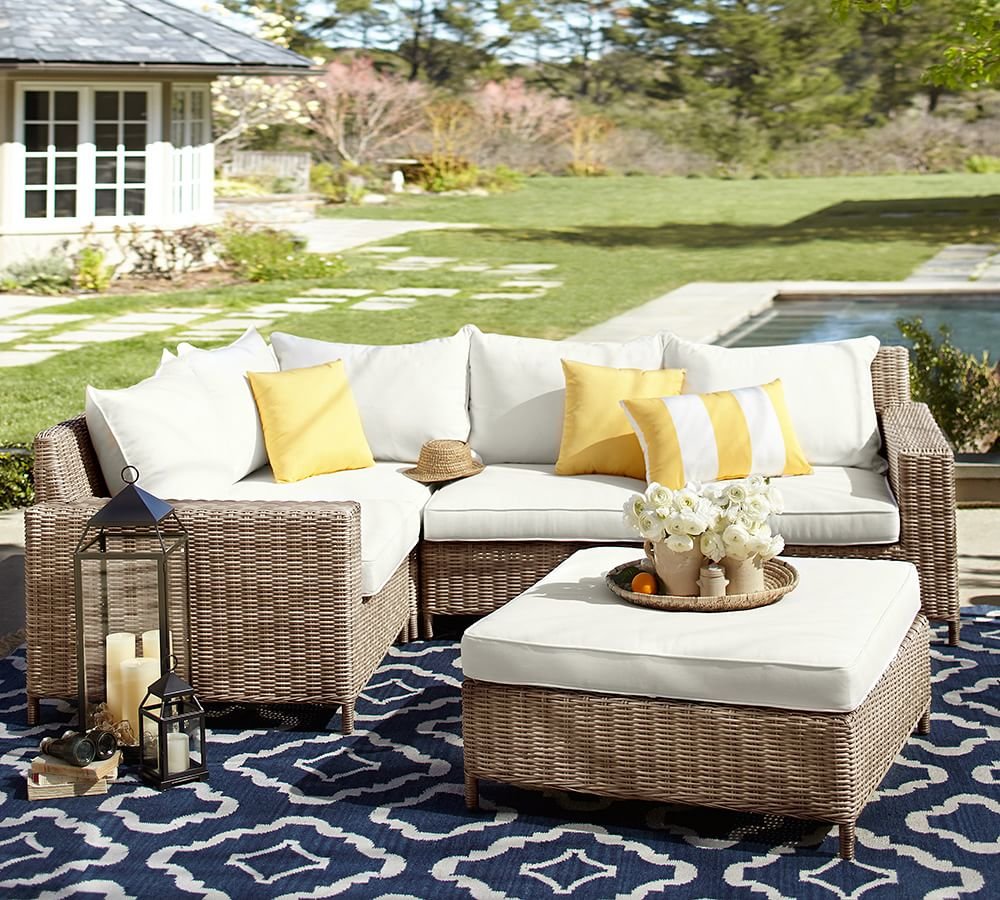 Cleaning Teak Furniture
Our teak pieces weather to a handsome gray tone as they spend time outdoors. Some people like this look, while others prefer the original warm honey brown. Either way, it's important to clean teak furniture every two to three months it spends outside to prevent mildew growth. Use a mixture of a cup of chlorine bleach, a cup of laundry detergent and a gallon of water to clean your teak pieces. Start at the bottom and work up to avoid leaving streaks behind. Let the solution sit for 15 minutes before rinsing it with clear water. Because cleaning removes the wood's natural oils, it's important to use a paintbrush to apply tung or linseed oil to bring out its natural color. Be sure to fully moisturize the wood by painting on oil until it's no longer soaked up.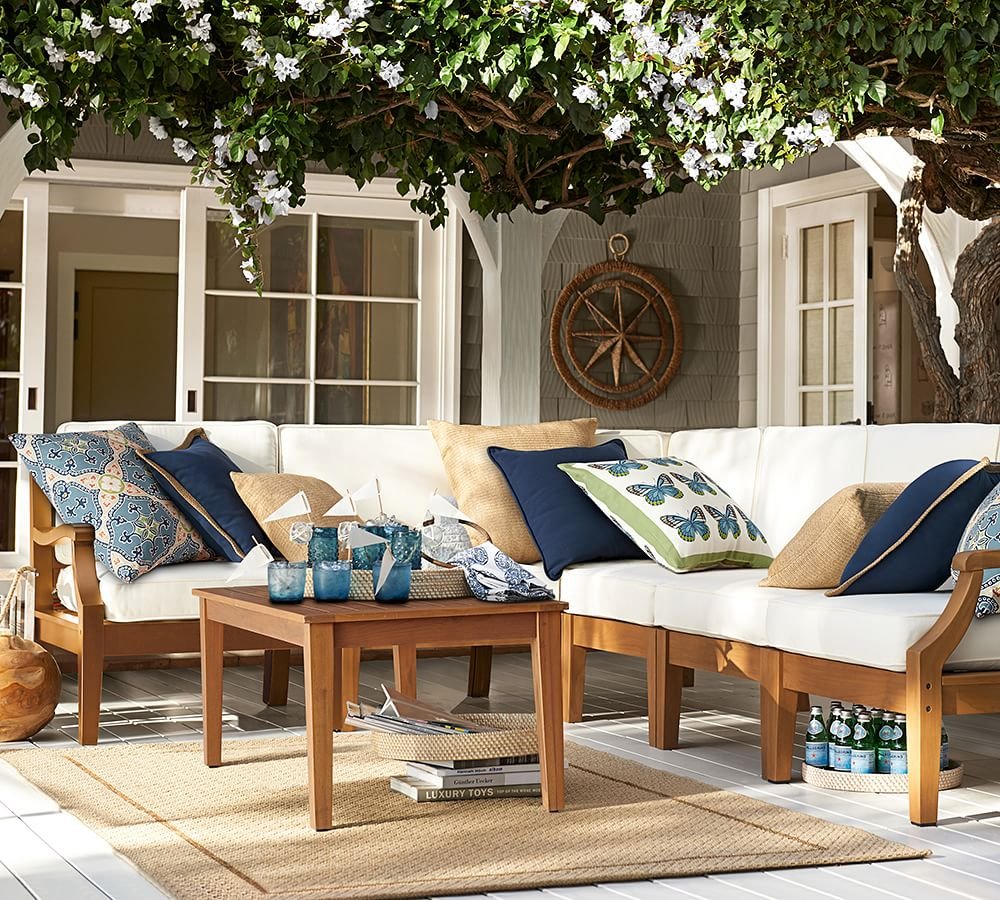 Cleaning Wood Furniture
Both painted and unpainted wood furnishings make durable, solid additions to an outdoor space, but you can spiff them up with twice-yearly cleanings. Prepare a spray bottle with one part chlorine bleach, 10 parts water and a few drops of dish soap. Use a hose to wet the furniture, and then spray it with the solution. Use a sponge to scrub dirt and mildew from the surface of painted furniture, and try a stiff brush to scrub the surface of unpainted furniture and loosen all that grime. Spray everything down with your garden hose to rinse the furniture, and then place it in the sun to dry.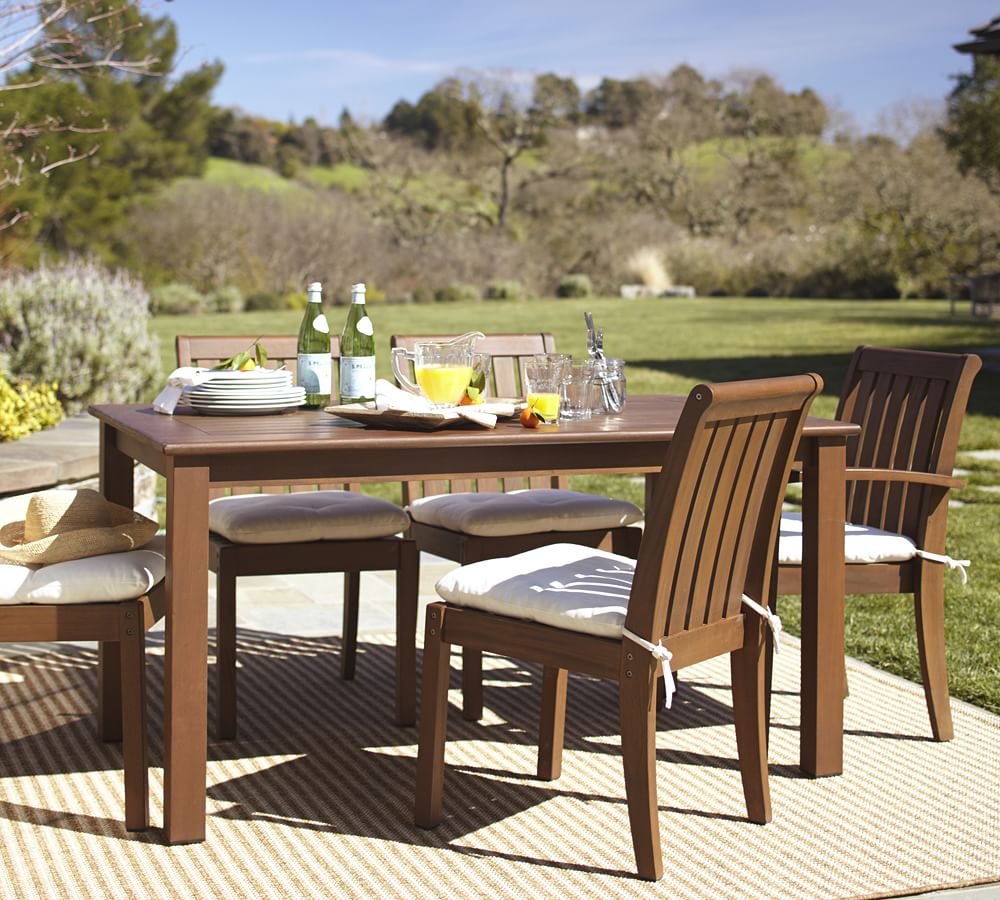 Cleaning Metal Furniture
Metal furniture is extremely easy to care for because most pieces are made from metal that inherently withstands all of the elements. In particular, aluminum resists rust and corrosion. For most metal furniture, you can use a soft cloth and warm, soapy water to clean the dirt away. Wrought iron furniture is often painted to prevent it from rusting; however, the paint might chip over time, leaving it susceptible to rust. Use sandpaper to remove the rust, wash the surface and then touch it up with paint. Following this procedure, every summer can keep your metal furniture looking as good as new.