Breakfast in bed is a decadent and wholly perfect way to spend almost any weekend morning, so why not roll out the red carpet (well, blanket) this weekend for your special someone? It's the perfect way to show the ones you love how much they mean to you, and you get a delicious meal out of it, too!
We enlisted the help of uber-talented food photographer Jackie Gillum to create a brunch menu that will leave your family happy, full, and ready for a lazy weekend: Honey & Blueberry Glazed Lemon Ricotta Pancakes and a Yogurt Parfait with Caramelized Bananas. Mmmm!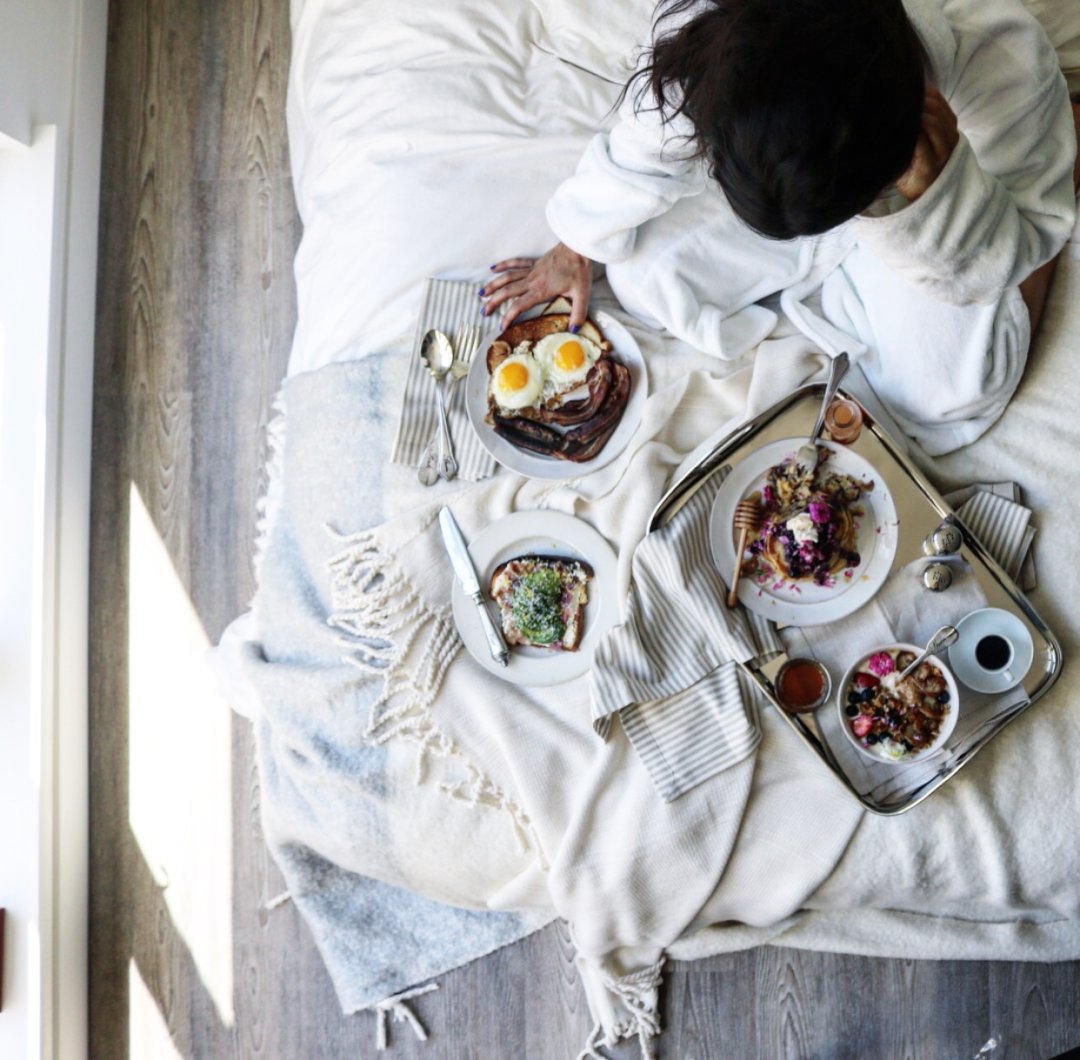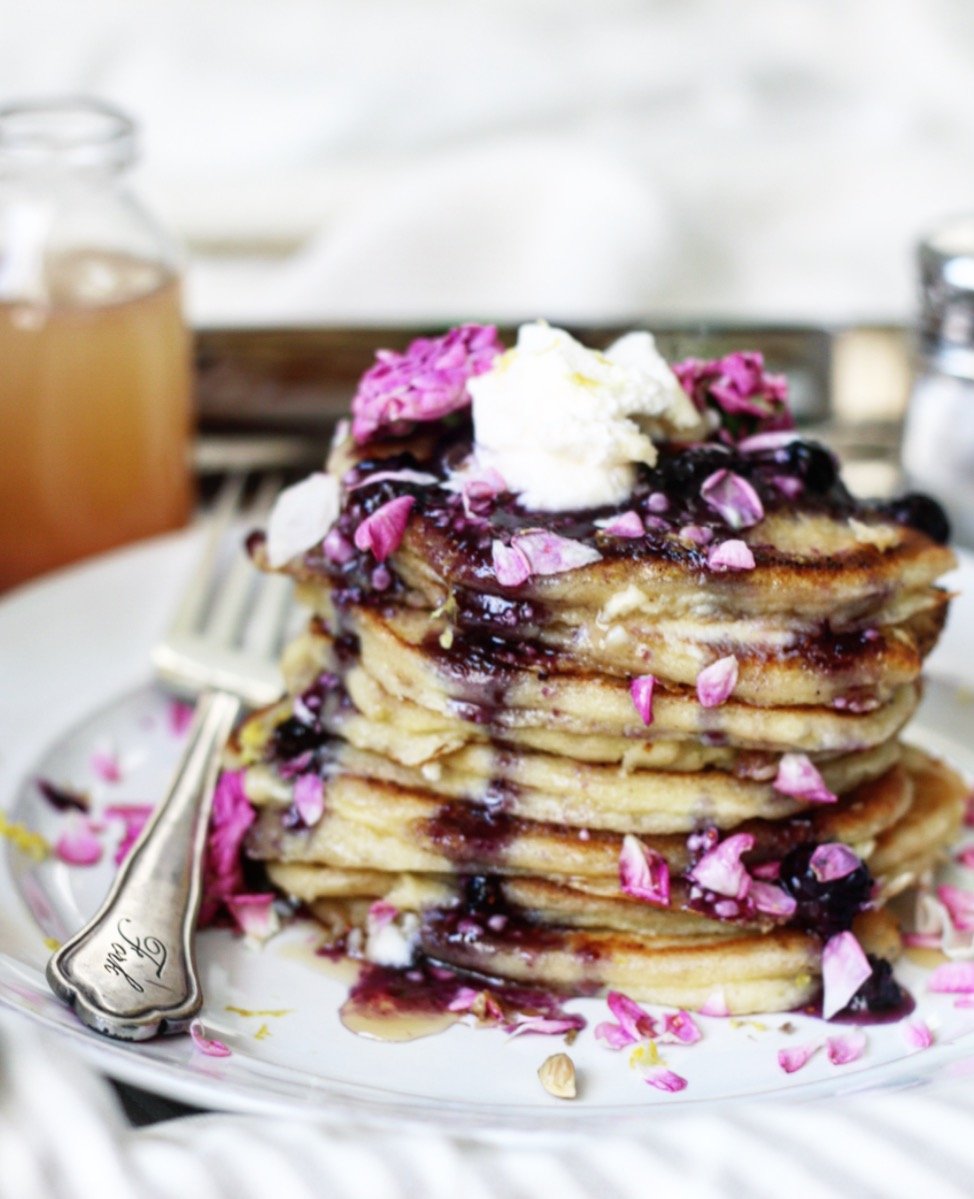 Honey & Blueberry Glazed Lemon Ricotta Pancakes
Ingredients
3 tablespoons unsalted butter, plus more for coating the frying pan and serving
1 cup whole milk
1 1/4 cups all-purpose flour
1 1/2 teaspoons baking powder
1 teaspoon fine salt
3 large eggs, yolks and whites separated
2 tablespoons granulated sugar
1 tablespoon packed finely grated lemon zest (from about 2 to 3 medium lemons)
Juice of one lemon
1/2 teaspoon vanilla extract
 3/4 cup whole-milk ricotta cheese
edible flowers, honey, and lemon zest optional
1 1/3 cup frozen blueberries
2 cups powdered sugar
Pancake Instructions
In a sauce pan, heat milk and butter until melted together. Set aside and let cool slightly.
In a large bowl, whisk together the ricotta, vanilla extract, egg yolks, sugar, lemon zest and lemon juice. Add in milk and butter mixture, whisking until smooth.
In a separate bowl, sift together the flour, baking powder and salt. Fold in with cheese mixture, again stirring until smooth.
In another bowl, with hand mixer, beat the egg whites until frothy. Slowly fold a third of the egg whites into the ricotta mixture, then gently fold in the remaining whites.
Preheat a skillet or griddle pan over medium heat. Butter the pan. Pour 1/3 cup batter onto the griddle for each pancake. Cook until bubbles form and the pancakes are golden underneath, 1 to 2 minutes. Flip the pancakes and cook for an additional minute. Transfer to a serving plate. Repeat with the remaining batter. Top with blueberry glaze, honey, lemon zest, edible flowers and a little bit more ricotta if you please.
Blueberry Glaze Instructions
Microwave the frozen blueberries until they begin to release juices. Add them to a food processor and blend until completely pureed. Transfer to a bowl. Whisk in the powdered sugar until smooth and glaze-like consistency. If the mixture is too thin, whisk is more sugar 1/2 cup at a time. If too thick, add a teaspoon of lemon juice and whisk.
We have no doubt that Dad will flip his lid over these pancakes!  Aside from being lip smacking good, they are beautiful thanks to the edible flowers sprinkled on them!  Talk about eating with your eyes and your mouth.  But that is not all – Dad still has to try the yogurt parfait that Jackie created!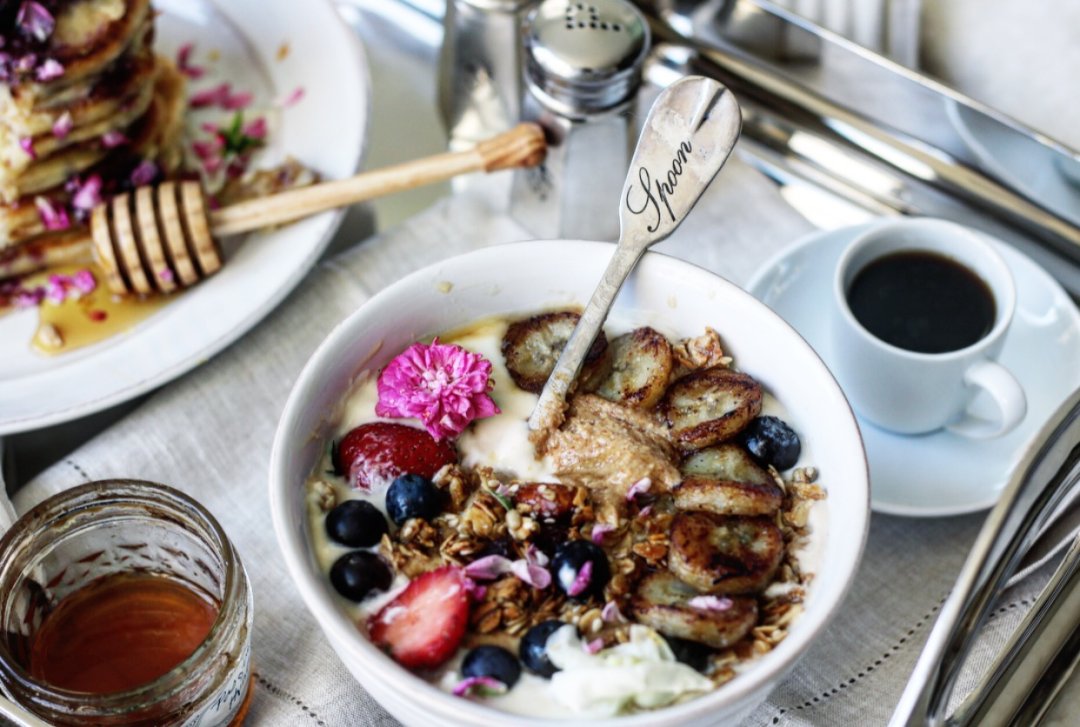 Yogurt Parfait with Caramelized Bananas
[makes 2 servings]
Ingredients
2 cups plain or honey greek yogurt
1/2 cup fresh blueberries
1/2 cup granola
2 tablespoon natural peanut butter
2 tablespoon honey
6 sliced fresh strawberries
1 fresh banana
1/4 cup granulated sugar
2 tablespoons butter
edible flowers – optional
Caramelized Banana Instructions
Slice bananas into thick coins and coat in sugar until fully coated.  In a mid-size nonstick pan melt butter over medium high heat. Add bananas and sugar.
Cook bananas until light to golden brown underneath, about 3-4 minutes.  Brown second side for an additional minute.
Parfait Assembly Instructions
Pour yogurt into bottom of bowl and sprinkle with 1/4 cup granola.  Evenly divide fresh fruit in half and arrange on top of granola.  Layer one half of the caramelized bananas on one side of bowl and place 1 tablespoon of peanut butter in crescent of layer.  Drizzle with honey, sprinkle with edible flowers and serve.
Regardless of what you do for Dad this weekend, be sure you remind him how much you care for him.  But then, we are sure he wouldn't complain if you snuck in the above dishes AND showed him a little love too!
Products included: Joshua Dinnerware // Mallory Tray // Sentiment Flatware // Sentiment Salt & Pepper Shakers // Faux Mohair Colorblock Throw // Cozy Sherpa Robe
photography: Jackie Gillum