The holiday season is officially here! Not only is it time for gifting but it's time for traveling. To us, being with family and friends is one of the highlights of the holidays! But sometimes the process to travel to them can be pretty stressful. To make your packing easy and your travel time comfy, we put together our Top 8 Holiday Travel Must-Have List.
**Hover over the photo to shop your favorite accessories!**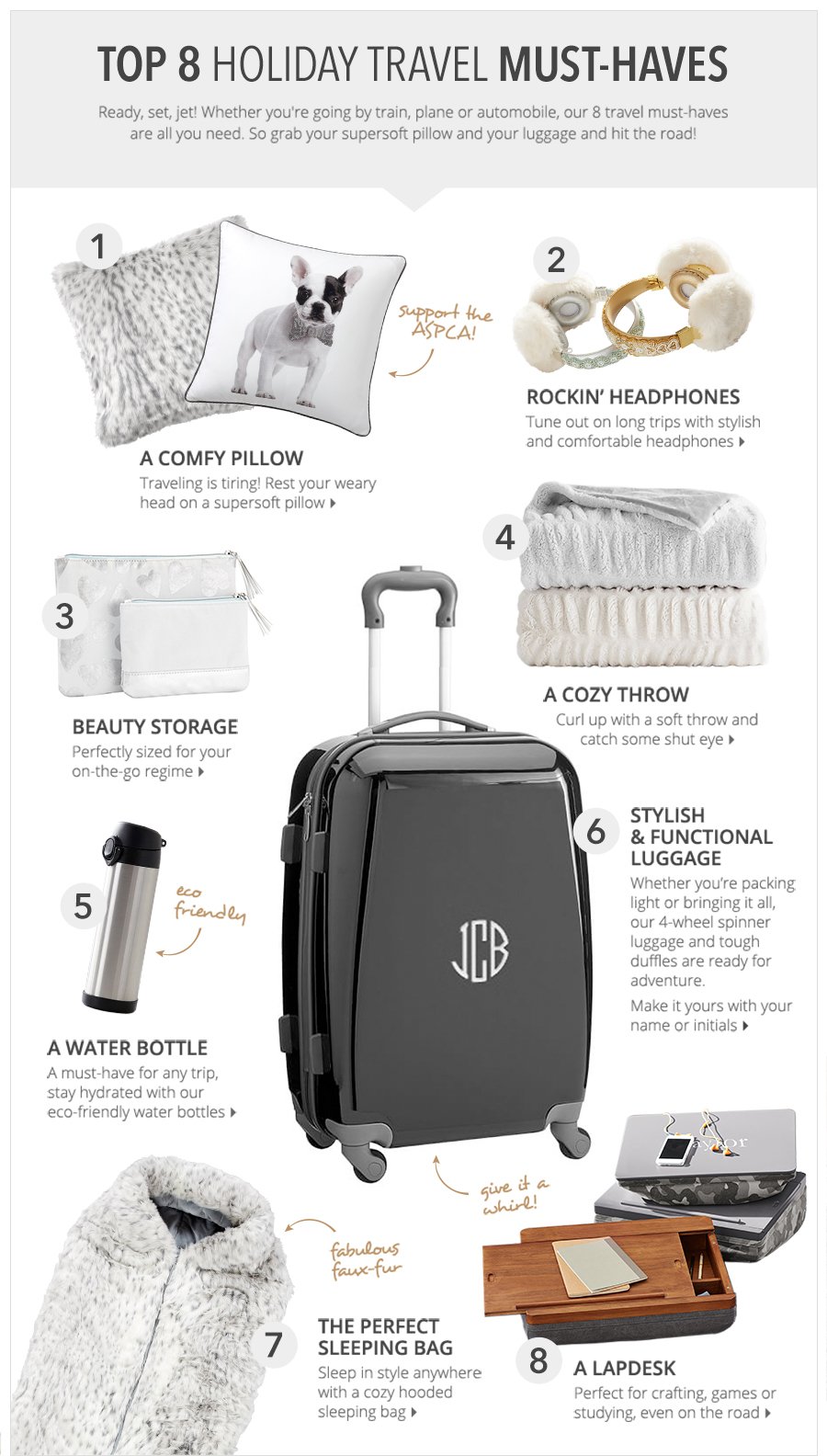 1. A comfy pillow is our number one MUST-HAVE! Whether you're taking a road trip or getting on a plane, a fluffy cushion is just the thing you need for a quick nap to gear up for all the holiday festivities ahead.
2. Listening to a crying baby on a plane is not how anyone wants to start their vacation. Our Bluetooth Beaded Fur Headphones is our fashionable answer to help cancel out the unwanted noise. What are your favorite holiday songs?
3. To keep all your makeup and jewelry from leaking out or getting tangled, our beauty storage is light and durable with a cotton canvas that's coated for an easy wiped down.
4. For those long trips ahead, grab a soft and cozy throw to nestle in for the journey. It's also perfect for snuggling up and watching those nostalgic holiday films.
5. To save some $$ and keep your hot/cold  beverages fresh on the go, bring along a reusable thermos to fill AFTER you get through check-in and security.
6. When we come back from the holidays, we always need more space for the gifts we received! That's why we take along our Hard-Sided Carry-on Luggage that helps protect our prized possessions.
7. If you're staying local and you're headed to a friend's house, bring along our stylish sleeping bags that roll out into instant coziness!
8. And last but not least, our lap desks are the perfect solution for crafting a studying while on the road. Each design has a built in ledge to keep your pens from rolling off along with a storage section to keep your materials organized.
Show us how you're packing for your holiday travels with #MyPBteen for a chance to be featured on our Instagram!