You may have big dreams for your home — impressive lighting, luxurious lounge spaces, and more storage than you could ever possibly need — but you may not have a particularly big home that fits those dreams. What's to be done? Should you simply put your dreams on hold until you find that perfect mansion to call home? Absolutely not! We're firm believers that everyone deserves to live in a space that makes them feel proud, comfortable, and stylish, which is why we're so excited about our new solutions for Small Space living.
Take a look at the living space below. It may be a very modest 287 square feet, but it's still jam-packed with style, including décor and furniture with smaller footprints — and price tags — than you might expect!
Want the look? Just place your mouse over the image and start planning how to make the most out of your space, no matter the size!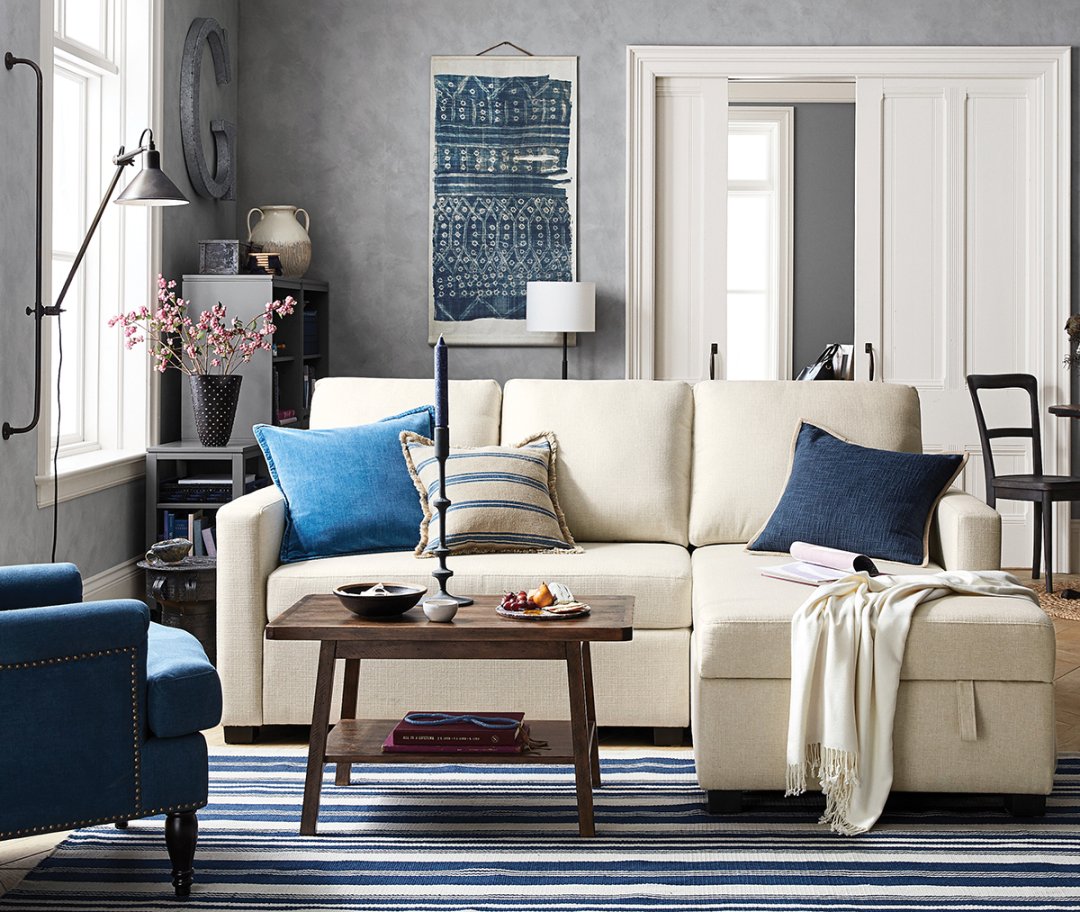 No matter how big or small your living space may be, one thing is for sure: You need a place to sit! With a limited footprint comes limited options for cozy, eye-catching seating, but that's where our gorgeous SoMa Bryant Upholstered Sofa With Storage Chaise Sectional comes in handy! Not only is it wonderfully comfortable, but it also holds a surprise: a hidden storage compartment inside the flip-top chaise. Gone are the days of shoving kids' toys and stacks of magazines under your bed when guests stop by without notice!
Balance the space out with our classic SoMa Delancey Wingback Upholstered Armchair, which is perfectly-sized for both long afternoon chats with friends and lazy nights-in with take-out and a movie. While it's not exactly seating, you may feel inclined to kick your feet up on our Mateo Coffee Table, too!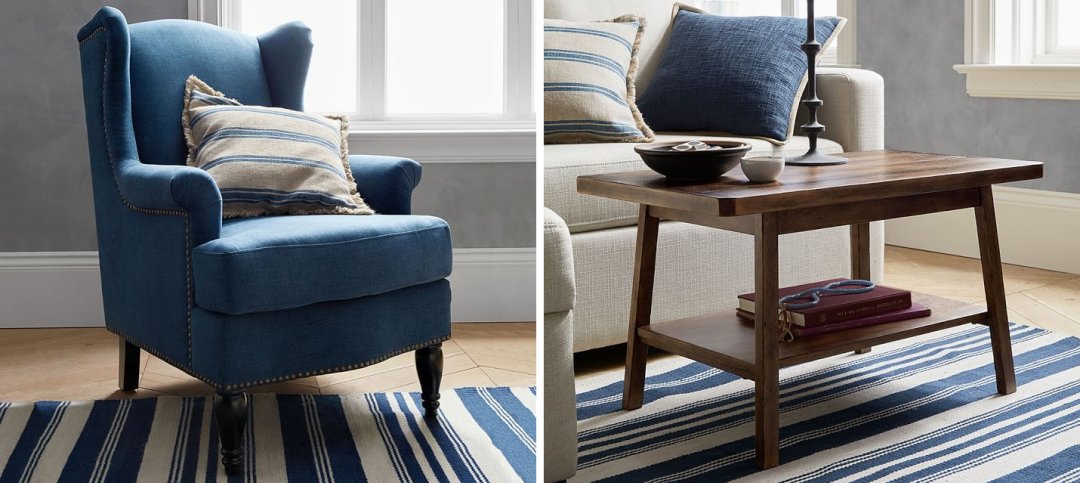 Big or small, your home is your home, so make sure it reflects your style. One quick and easy way to do that? Pillows. (No, really.) Pillows can transform a space in a matter of seconds, and they're the simplest things to update.
Too many choices? Pillow paralysis? Let us help: Start with an odd number for your sofa (three is usually a safe bet), and try to keep shapes or color palettes complementary, like our handsome-but-not-terribly-flashy Basketweave Pillow Cover, our charming new Stripe Fringe Pillow Cover, or our classic Washed Velvet Pillow Cover.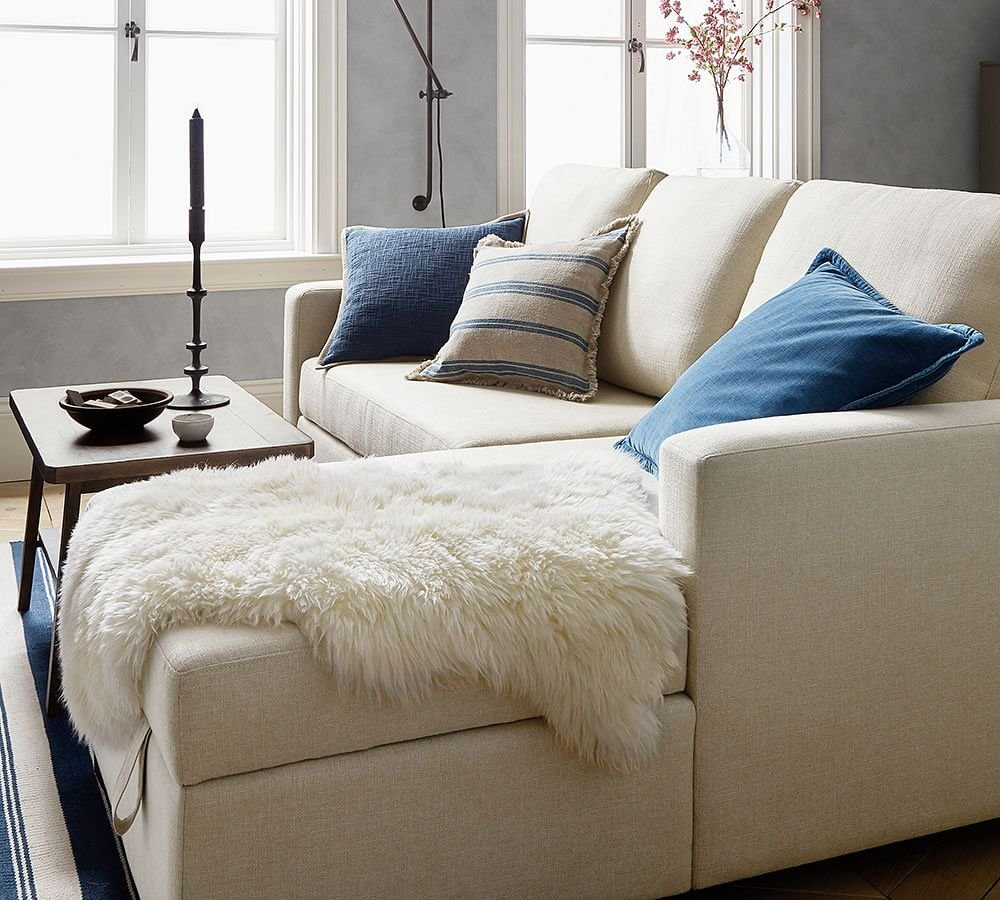 Once you've increased the cozy factor of your living space with pillows, there's one more (very) important way to make the most from your size-conscious room: lighting! When's the last time you thought overly-bright lighting made a huge room look great? When it comes to lighting, don't overdue it; subtle, delicate lighting will create a soft and comfortable atmosphere, and it'll make your small space feel intimate and perfectly-sized.
We're kind of obsessed with our fabulous new Hastings Tray Lamp, in part because it's so beautiful, and in part because of its versatility: the handy tray on the lamp's base is perfect for storing keys and jewelry, and if there's one thing every small space can use more of, it's storage solutions!
It's easy to feel limited when your square footage is lacking, but it's nothing a little vertical creativity can't fix! When it comes to making a space your own, think of your walls as an extension of your floor and don't be afraid to have a little fun. Hang colorful art, and experiment with different textures, like our fun Kantha Textile Canvas Wall Art and our industrial Hanging Galvanized Letters Wall Art.
Once you've tackled your walls, look down! Your floor can be the forgotten canvas in your home, so fill it with rugs in different colors and patterns, like our Oxford Stripe Recycled Yarn Rug. The additional layer of detail will be visually interesting to any guests who may stop by for a visit, and it'll make your house feel like it truly has your personal stamp in every space.

With a little creativity and the right furniture configuration, you can turn one large room into a living space, a work area, and a kitchen. Take a look now, then be sure to check out all of our new arrivals for Small Space Solutions!
Featured products: