Blush is hardly a new color, but it's one that may not be on your radar — and even if it is, it may not be in your home! Blush is quickly becoming one of the hottest new colors in home decorating, offering a subtle, sophisticated, delicate touch to any room. The hue evokes feelings of love, romance, and drama, but it's just as comfortable being casual, relaxed, and cozy. Not sure how to introduce the shade into your home's existing palette? Never fear! We'll walk you through the process, whether you're interested in adding one or two blush-inspired elements, or if you're looking for an entire room refresh!
There's no need to jump into a new color palette head-first! Take your time and introduce blush elements to spaces in your home in need of a small refresh. You'll be pleasantly surprised how a color you may not normally gravitate toward can become your favorite piece in a room!
.
If you're nervous about committing to a full blush-makeover, then there's no need to rush into it! Take things slowly by introducing one blush element into a space at a time, layering subtle pops of color into your existing aesthetic.
Don't know where to start? Our luxurious Herringbone Mohair Throw is an absolute favorite pick for nearly any room, offering cozy comfort to anyone in need. Our Solid Faux Mohair Oversized Throw and our customizable Monogrammable Throw also lend understated (but fabulous) color and texture into a space.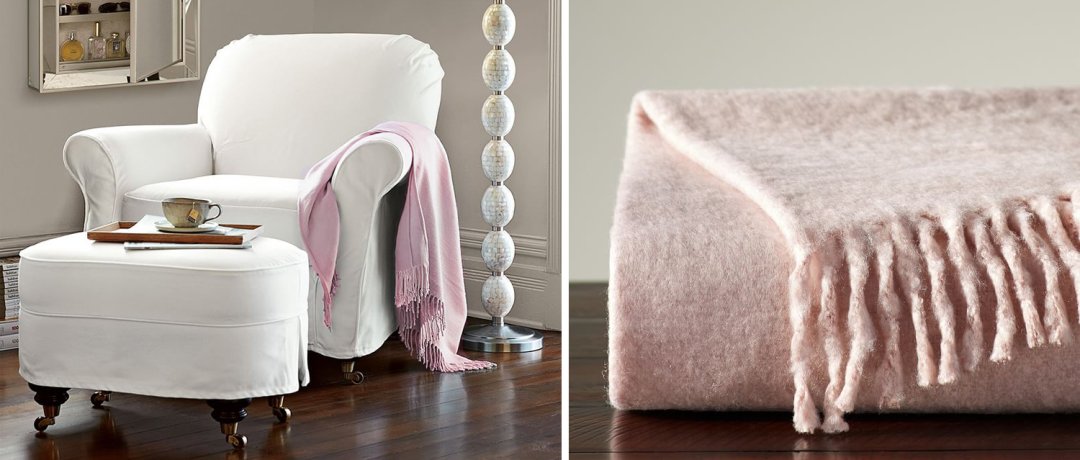 .
Another fantastic way to dip your toe into the world of blush? Pillows! Our gorgeous Sabyasachi Rose Printed Pillow Cover will make your bed or sofa instantly more romantic, and our charming Elisa Pillow Cover brings a touch of blush whimsy to the fold.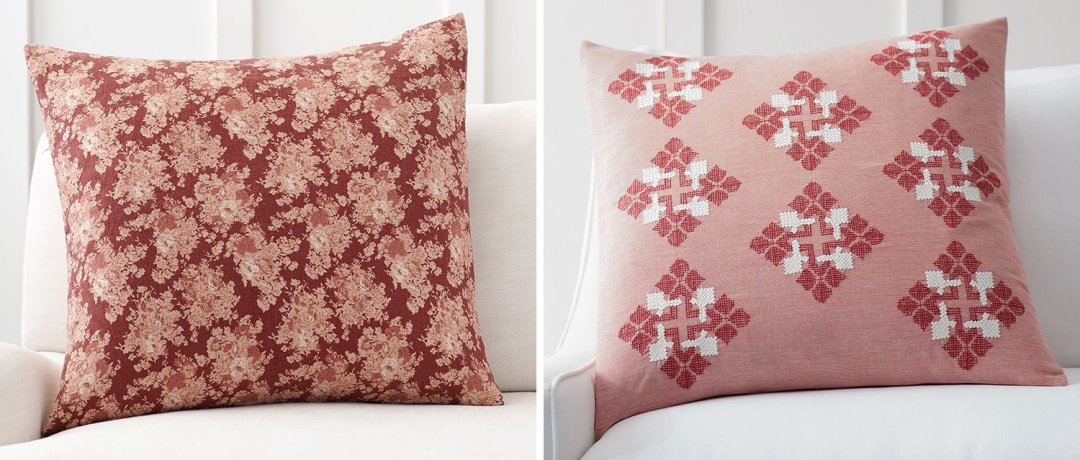 .
Once you've built-up your blush-inspired confidence a bit, branch out a bit by introducing the hue to one of the most-used spaces in your home: your bathroom. Believe it or not, layering blush into a bathroom is wonderfully simple, and it can transform both the look and the feel of a room in a matter of minutes.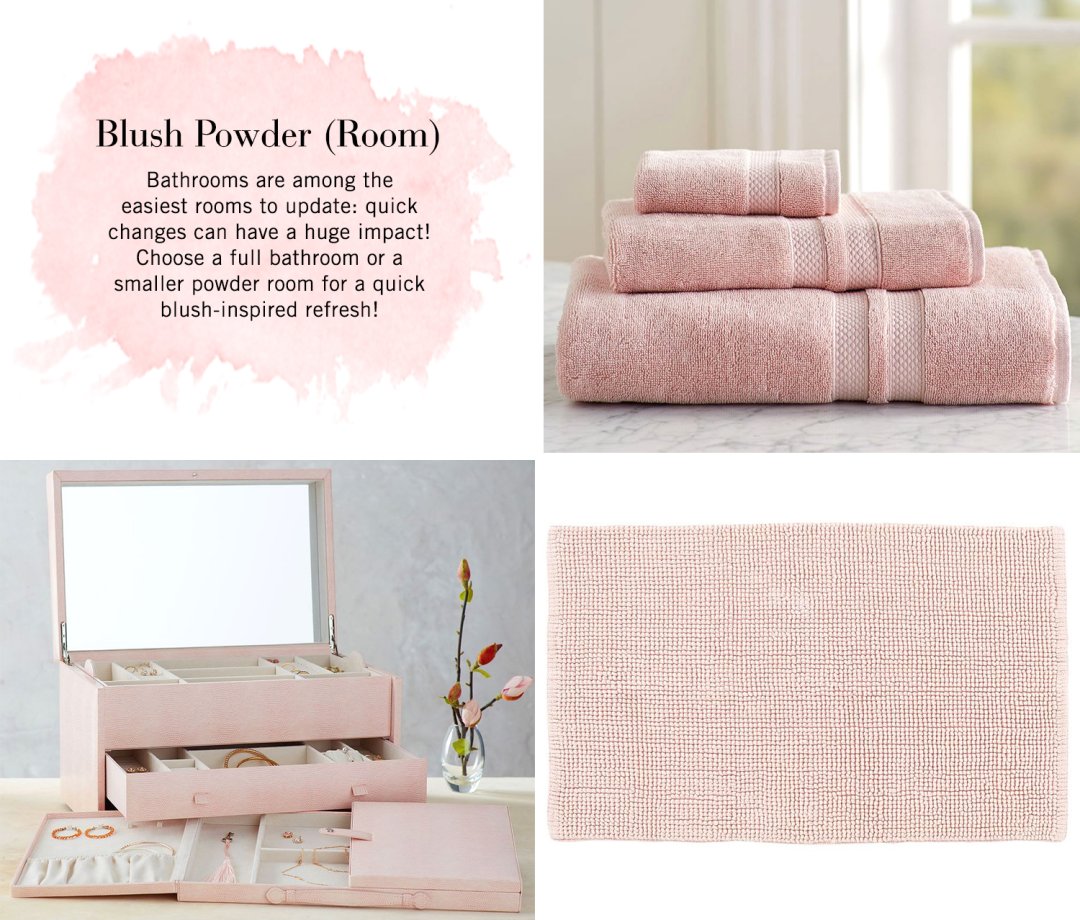 .
Update your bathroom with our fabulous PB Organic 600-Gram Weight Bath Towels in less time than it takes to say "PB Organic 600-Gram Weight Bath Towels." Keep your feet dry with our plush Textured Organic Bath Rug (or our Double Wide version), and round things out with our beautiful and wonderfully-handy McKenna Leather Jewelry Armoire. (Need something slightly smaller? Try our McKenna Leather Medium Jewelry Box or our slightly-larger McKenna Leather Large Jewelry Box.)
Shades of pink are often reserved for little girl's bedrooms, but blush is far too beautiful to be exiled to children's rooms! The delicate hue makes for the perfect bedroom accent color, whether you're looking to update your bedding, lighting, or anything else!
.
Instead of building a bed that's overflowing with blush, consider layering-in soft elements of the shade in order to create a calming, mature, and sophisticated bedroom oasis. Our Nia Velvet Pillow Cover and Quilt & Sham are a fantastic option for picking and choosing which pieces you want to introduce to the space first, unless the plush luxury found in our Portia Cotton Silk Quilt and Sham or our Tencel Ruffle Duvet Cover & Sham calls your name first.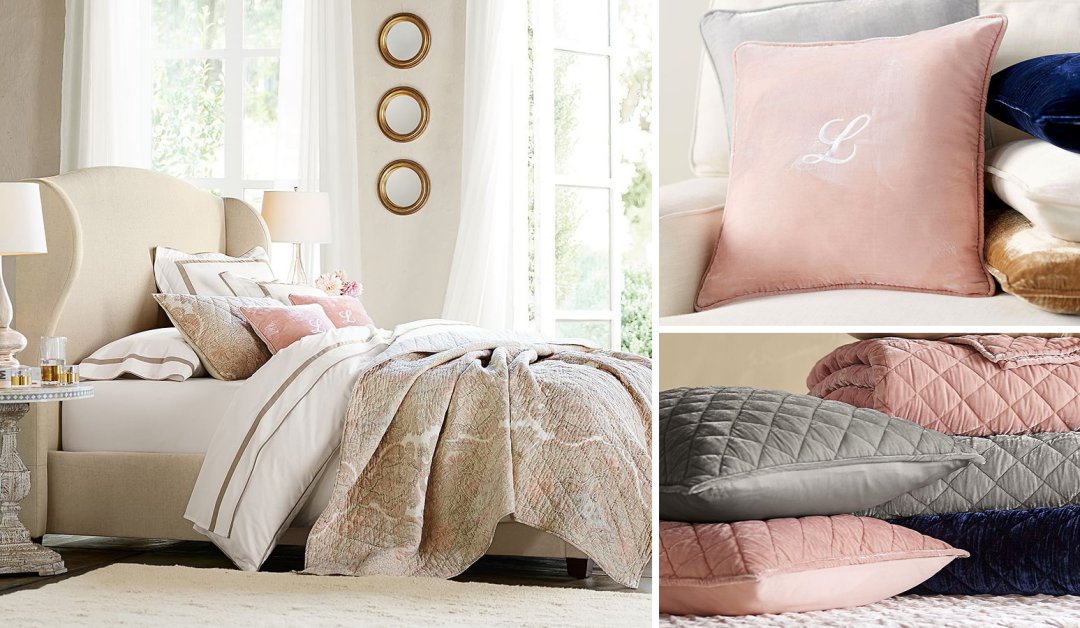 .
You can always go full-ruffle with our darling Tencel Ruffle Duvet Cover & Sham, but if you're not ready for blush to have its above-the-covers moment, then perhaps our classic PB Organic 350-Thread-Count Sateen Sheet Set or  our Belgian Flax Linen Contrast Flange Sheet Set are more your style, offering subtle touches of the hue to your room.

.
Blush isn't only a great choice for bedding: Believe it or not, blush can be the perfect pick for accent furniture, as well! Our gorgeous Windsford Bench will have you dreaming of fairytale lands, and our stunning Aubrey Romantic Curvy Lamp Base is our go-to choice for blush-inspired lighting.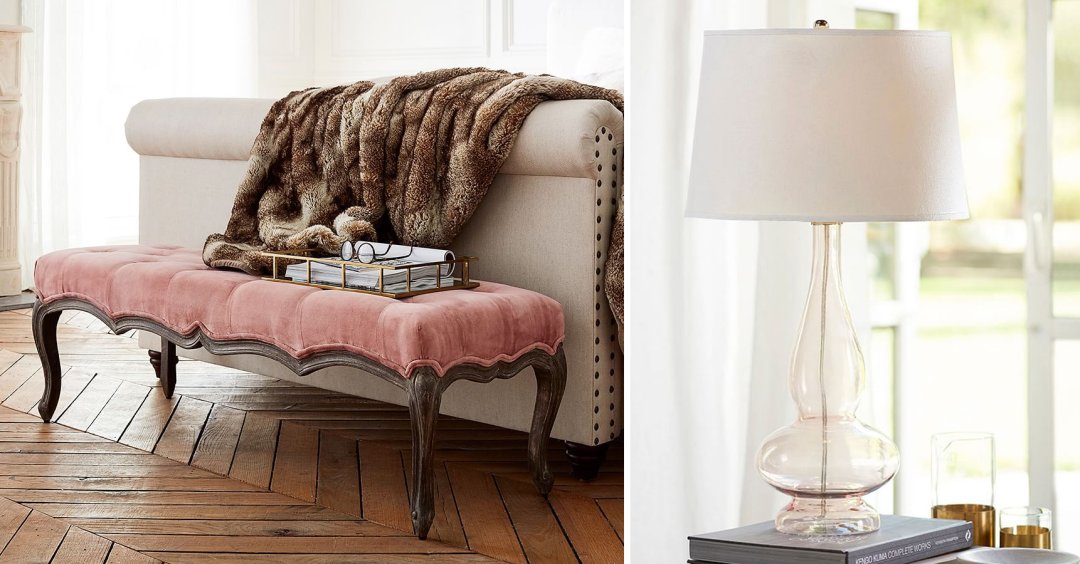 .
If you already know that your love affair with blush is just starting, then consider taking a leap: paint! Choose the perfect shade from Sherwin-Williams (and enjoy $15 off of your purchase* with the coupon through the link), then check out Pottery Barn's Complimentary Design Services (as in free-of-charge!) to have our design pros help your blush-tinted dreams come true.
.
In need of more tips and tricks for how to introduce blush into your life?
Take a look at all things Blush & Gold now!