Post created written Lauren Elizabeth from Lauren Loves!
Gift giving season is upon us…and I couldn't be happier! While I will gladly accept any gift graciously given to me, I enjoy the act of thinking of, shopping for and giving gifts to others more. I try to be as conscious of a gift-giver as possible, really thinking about what the recipient will actually want/use/enjoy. I try to avoid gift cards at all costs, unless there was a specific request for one. I like to think of what the recipient does for a living, what their hobbies are, what is something they've said they want but wouldn't buy for themselves.
My family has been asking what I would like to receive this holiday season, and it usually goes back to the things that I do on a daily basis or the things that I really enjoy. Two of those things that come to mind are traveling and doing my makeup/getting ready for the day. While I don't go through the effort to get ready with a full face of makeup every day, I have enough lying around that extra storage is always useful.
The Brass Beauty Organizer from PBteen is exactly what my disheveled makeup bag needs. With shelves and cubbies, this beauty serves both a functional and decorative purpose. The mirrored back adds just the right amount of luxury while the brass keeps it rustic and industrial. What I love most about it is how it can be used in so many different ways. To hold q-tips, cotton balls, and small toiletries for guests in a guest bathroom, as a "catch-all" just inside your front door, to store some of your favorite accessories, or for excess makeup. It's a perfect gift for the beauty junkie, decorator-lover in your life!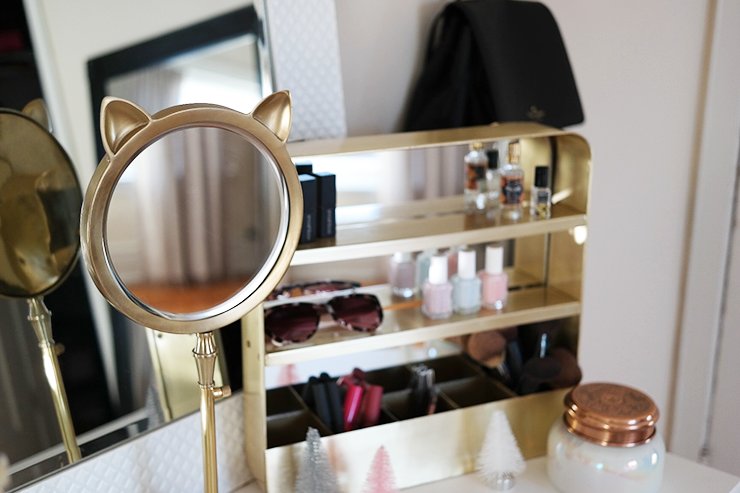 If this isn't the cutest desktop mirror you've ever seen, you're lying. It's the purrfect option for a beauty lover, a college-bound girl, or just a regular old cat lover like myself.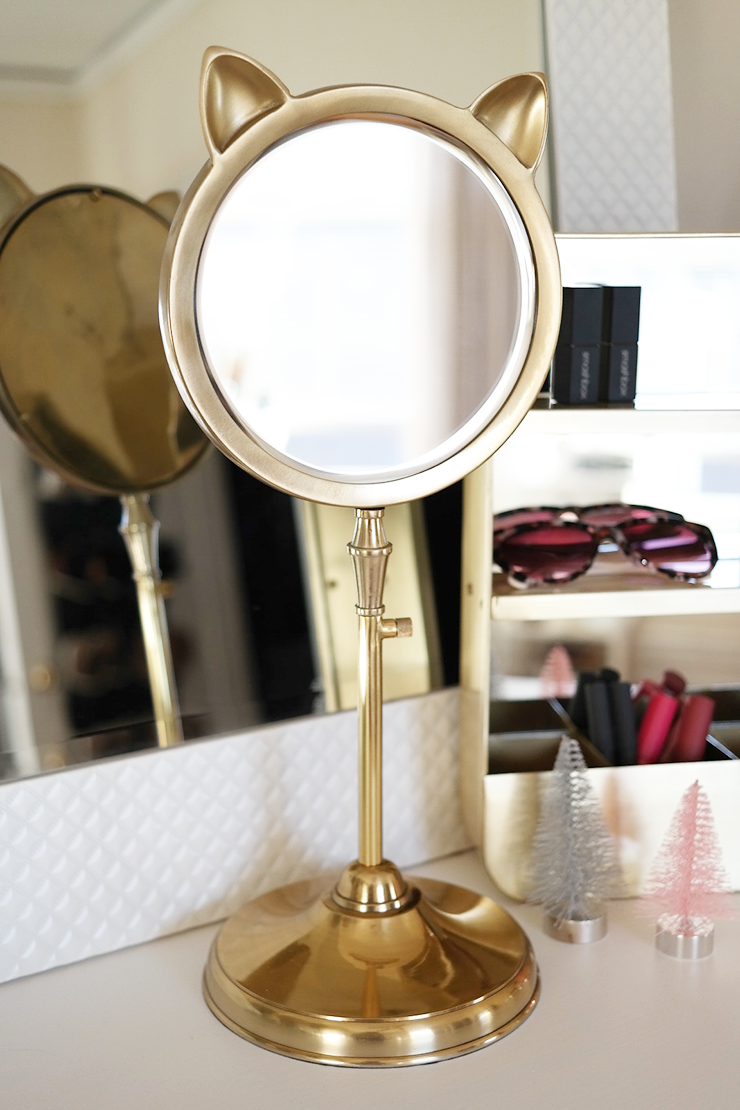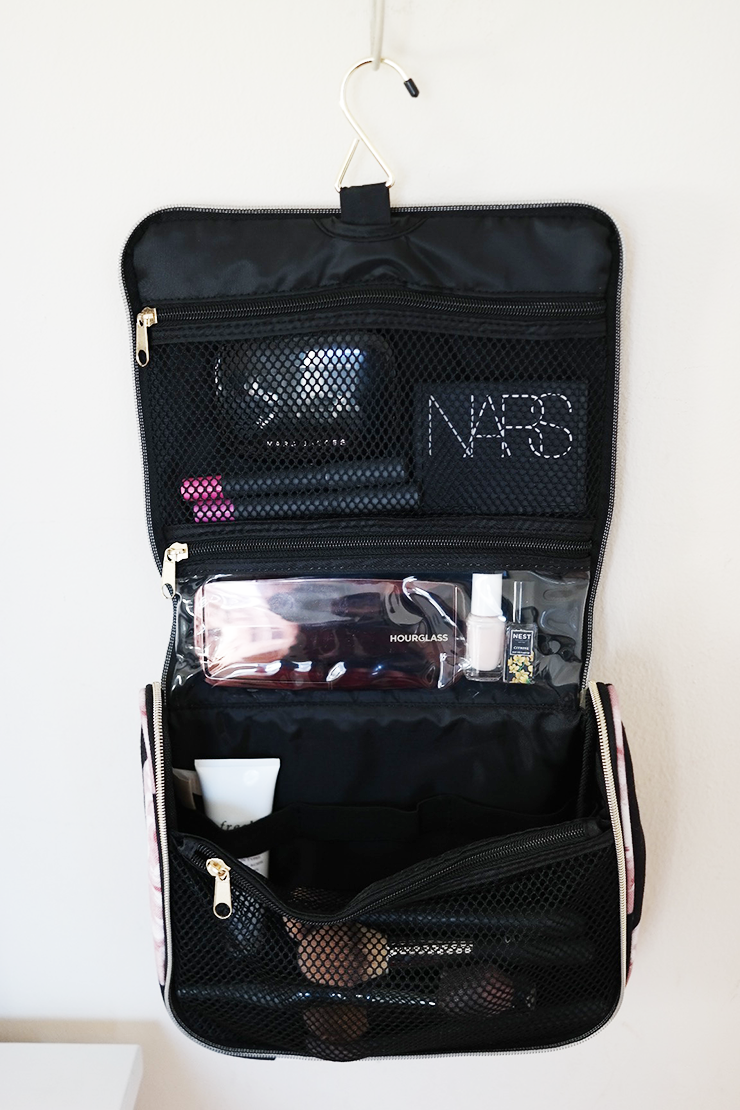 Mike and I have made a conscious effort to travel quite a bit the last couple of years, which means that I can always use more travel accessories. I've been using one of those hanging toiletry cases since about middle school, so it should come as no surprise that a pretty floral designed, gold-accented hanging case would be on my life. It's beautiful, functional, and has pockets in all the right places.
And these cat pouches. GUYS.
If you know someone who even remotely likes cats, BUY THESE FOR THEM. They're so stinking cute and the perfect size for so many different things. The little guy can hold your lipsticks, charging cords, gift cards, or "first aid" things in your everyday bag. The big guy can hold your jewelry, extra sunglasses, or camera accessories when traveling. They are so cute and so useful, a true staple, if you ask me.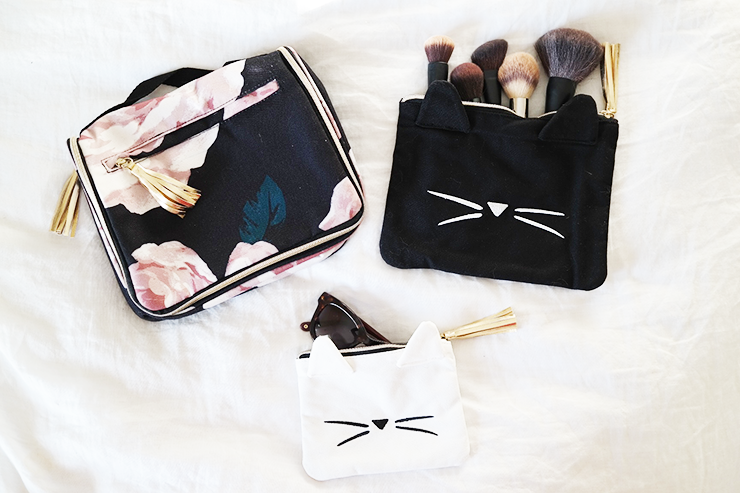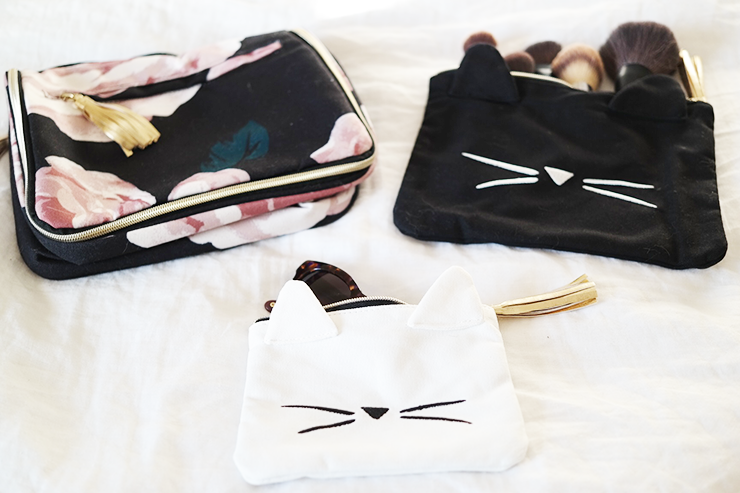 PBteen has so many cute items in their gifts section right now. If you haven't finished (or even started!) your holiday shopping yet, you should browse their website. Keep in mind what the recipient(s) would really love and appreciate and you can't go wrong! Bonus: there's a promo for 25% off + free shipping on your order, so go buy those cat pouches. And everything else.
THIS WEEKEND ONLY!! Recieve 25% our Emily and Meritt Collection.

*Exclusions Apply