Monica Lavin of Lavin Label is one of our go-to lifestyle & entertaining experts on the blog, so she was an obvious choice to tap to do a story on the pieces that should be on every registry list for people who love to entertain. Monica and her husband often host large parties and she has a handful of serving pieces that she always has on hand. So if you also love to entertain, are looking for registry advice, or searching for pieces to round out your home — follow these five tips!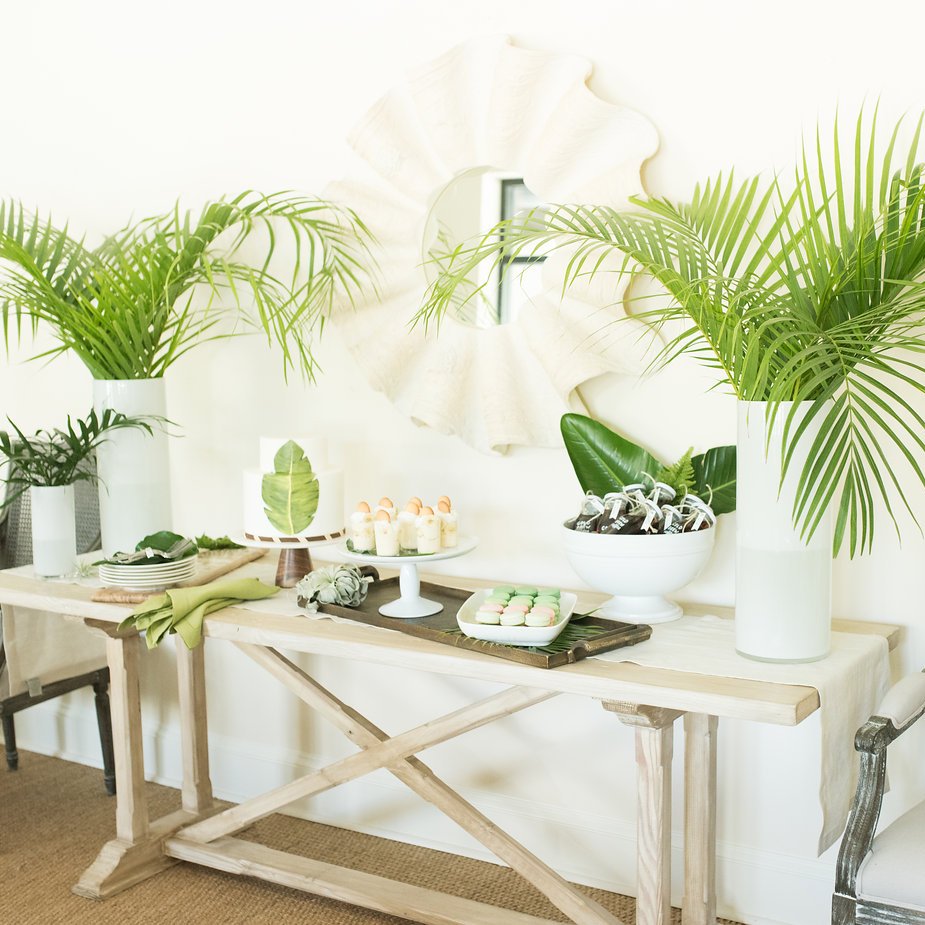 One. Invest in a tray that you can use for serving food as well as decor when you're not entertaining. A tray can serve as the foundation of a stylish serving station or help organize a coffee table arrangement. Monica lovse this long metal tray, and uses it to display banana pudding parfaits and assortment of delicious Tree House Macarons for her dessert bar. When she is not using the tray for entertaining, she styles the antique-gold tray on her living room coffee table with white hydrangeas, magazines and a fragrant candle.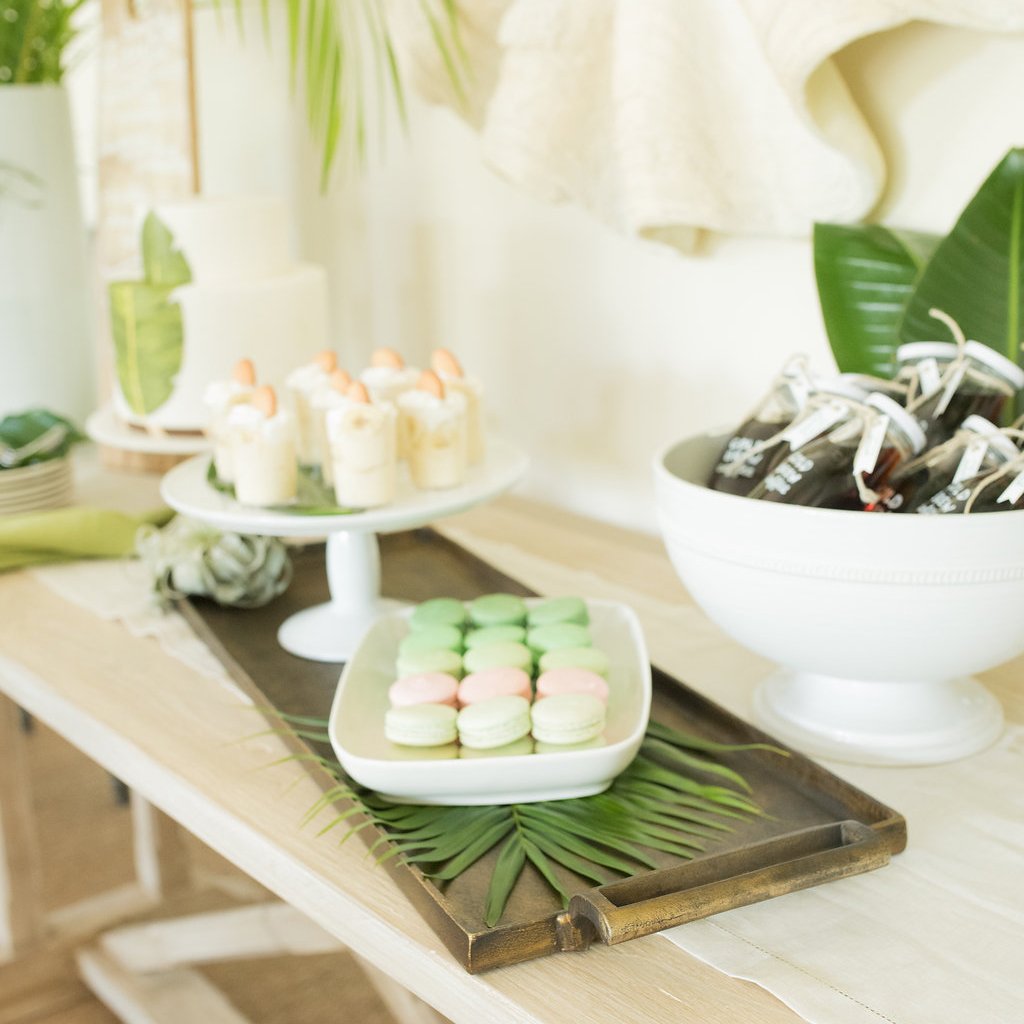 Two. Choose a large classic serving bowl, like this Gabriella Footed Bowl. These are great for large parties (think pasta salad, spaghetti bolognese or fruit), but it can also function as a vase for flower arrangements. For this party, Monica used the hand painted bowl as an ice bucket to hold her mini Wake Up cold brew coffees.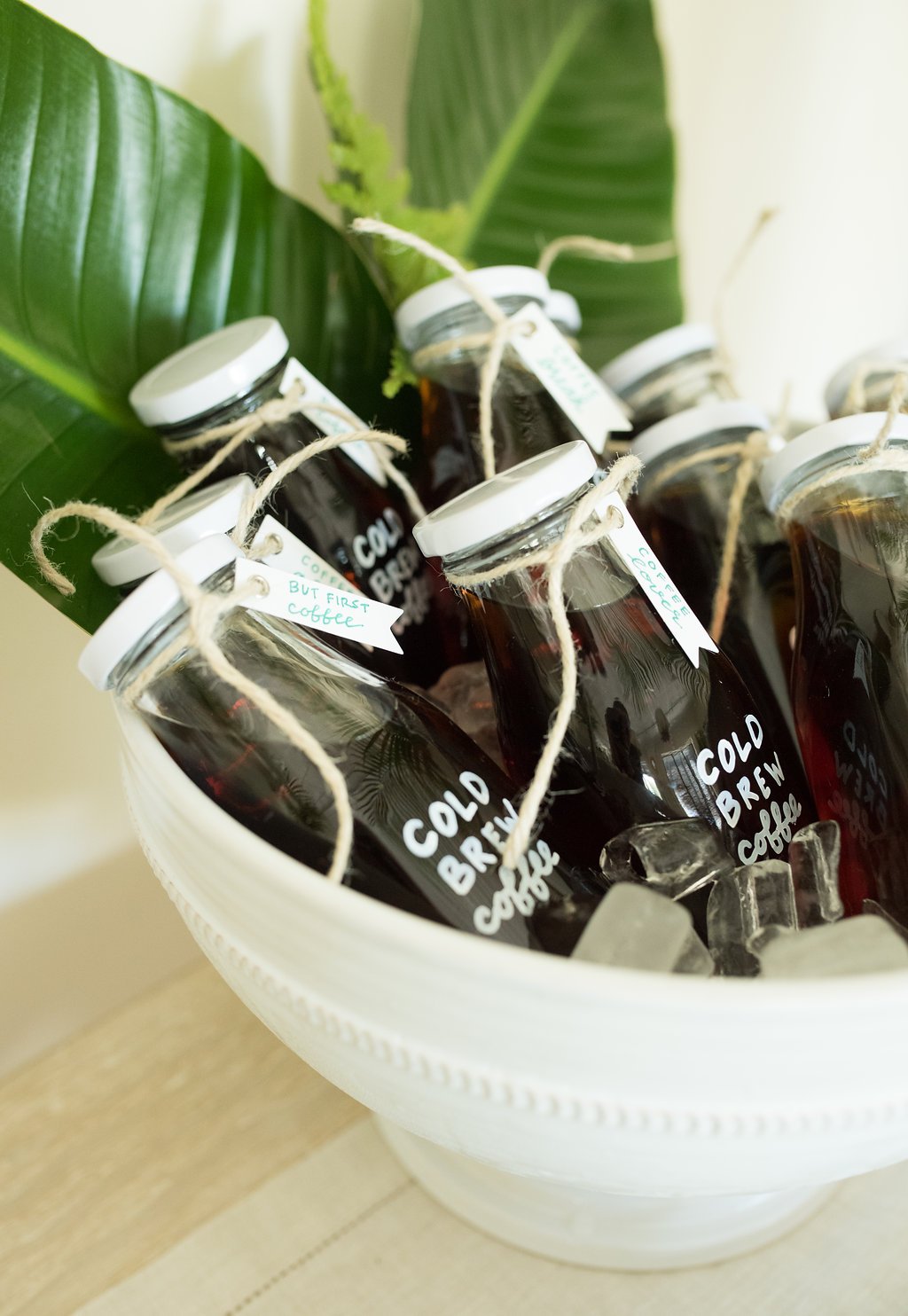 Three. Find vases that vary in height and can be used for either candles or greenery, like these tropical leafs from The Vine. If you choose the right vases, like these Monroe Vases, you can use them for table settings, fireplace decor or to frame your front door. Monica definitely recommends buying them in a classic color, like white, so you can use them year round.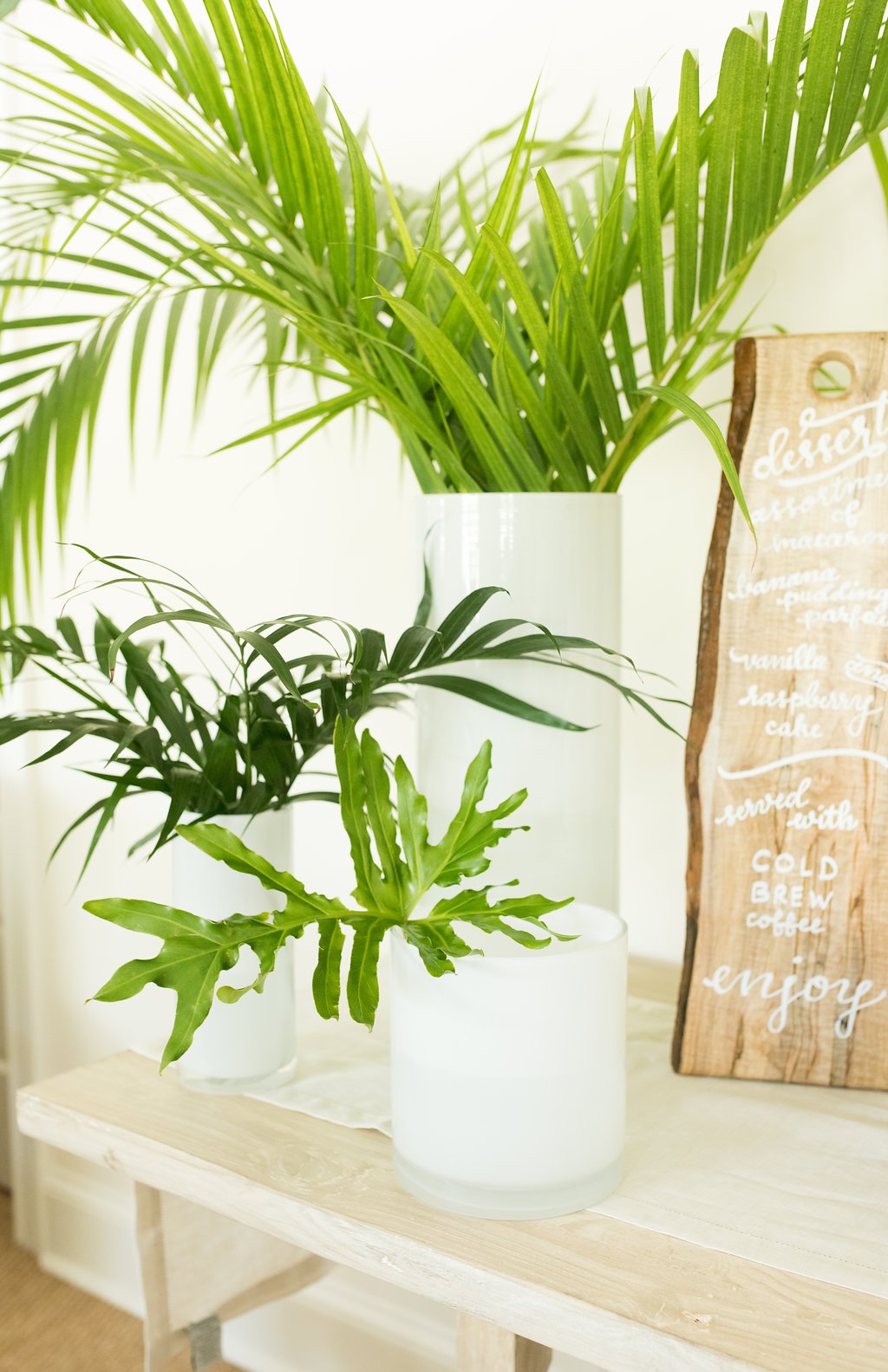 Four. When Monica registered for her wedding, she chose a colorful table runner with white napkins. After hosting numerous parties, she realized that she should've reversed that decision. She recommends going for a classic color table runner so you can get more use out of it, like this flax linen hemstitch runner. Then, you can accent it with colorful dinner napkins, salad plates or water goblets. Since her dessert bar had a tropical theme, Monica chose these fun cactus linen dinner napkins to bring out the green and blush pink accent colors.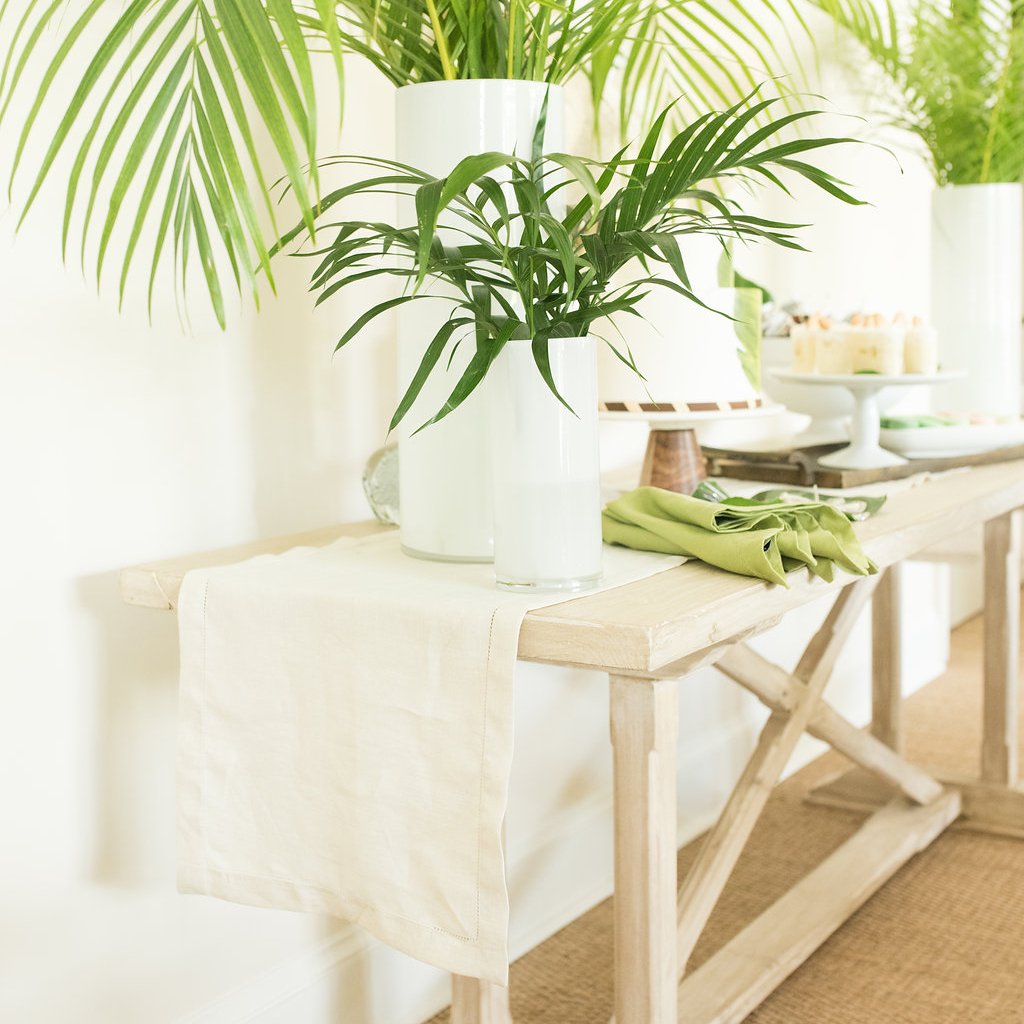 Five. Many years ago Monica registered for Pottery Barn's Great White Cake Stand and absolutely loved it. However, when she hosted her first Thanksgiving, she obviously had more than one pie and regretted not having another cake stand. So her advice would be to invest in at least two cake stands. They can also add height to serving plates on a dinner or buffet table, hold pillar candles, and display fruit. In Monica's case, she paired her classic white cake stand with this marble and wood entertaining stand. She used one stand to display this beautiful hand painted banana leaf cake by Minette Rushing with Savannah's Custom Cakes and used the other to hold her banana pudding parfaits. You can also use cutting boards to display cookies, parfaits or even use it as a dessert menu (just use a white chalk pen)! The wood cutting board brought out the wood elements in the marble and wood-entertaining stand, while also creating a more polished look.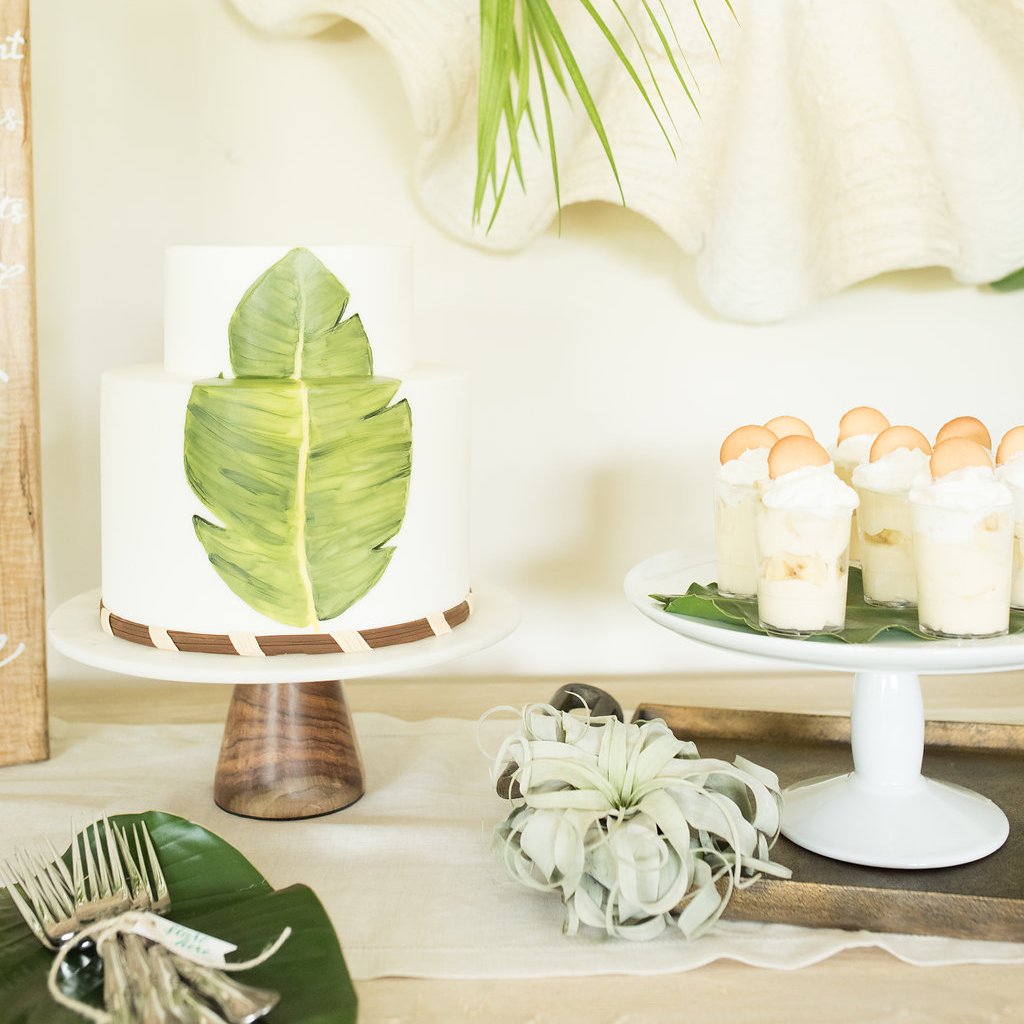 What are some pieces you think should be included on every registry?  Are you engaged or moving into your first home?  Be sure to register for all your entertaining needs (and wants) with Pottery Barn Registry!

Credits
Photography: Kelli Boyd Photography
Styling: Monica Lavin, Lavin Label
Macrons: Tree House Macarons
Cake: Savannah's Custom Cakes
Wood Sign: Buster and Sons
Greenery/Floral Accents: The Vine Garden Market
Cold Brew Coffee: Wake Up Coffee Co.