We are so excited to launch our NEW pet designs that benefit ASPCA! This month, Cayla from Pankobunny brought home an adorable new friend Paddington.o welcome Paddington into his new home, we sent him our Heart Pet Bed! We caught up with Cayla to see how she's keeping her puppy healthy and we fell in love with these 3 easy-to-make pet treats that are filled with nutritious flavor. Scroll below to get Cayla's yummy recipes and see more adorable photos of Paddington!! ?
Frozen Coconut Treats
Ingredients
½ cup coconut oil, melted and cooled to the touch
fresh blueberries
Directions
1. Evenly distribute the coconut oil into a silicone mold and place one blueberry in each cavity of the mold. Freeze until fully set, about 30 min – 1 hour.
2. Unmold the treats and store in a freezer bag in the freezer. These can be given to your dog as is, or placed in a Kong as a fun treat to enjoy when you need some quiet time.
Banana Cookies
Ingredients
3 cups rice krispie cereal
1 ¼ cups unsalted beef or chicken broth
1 ¼ cups whole wheat flour
1 cup thinly sliced banana
8 ounces ground beef
1 large egg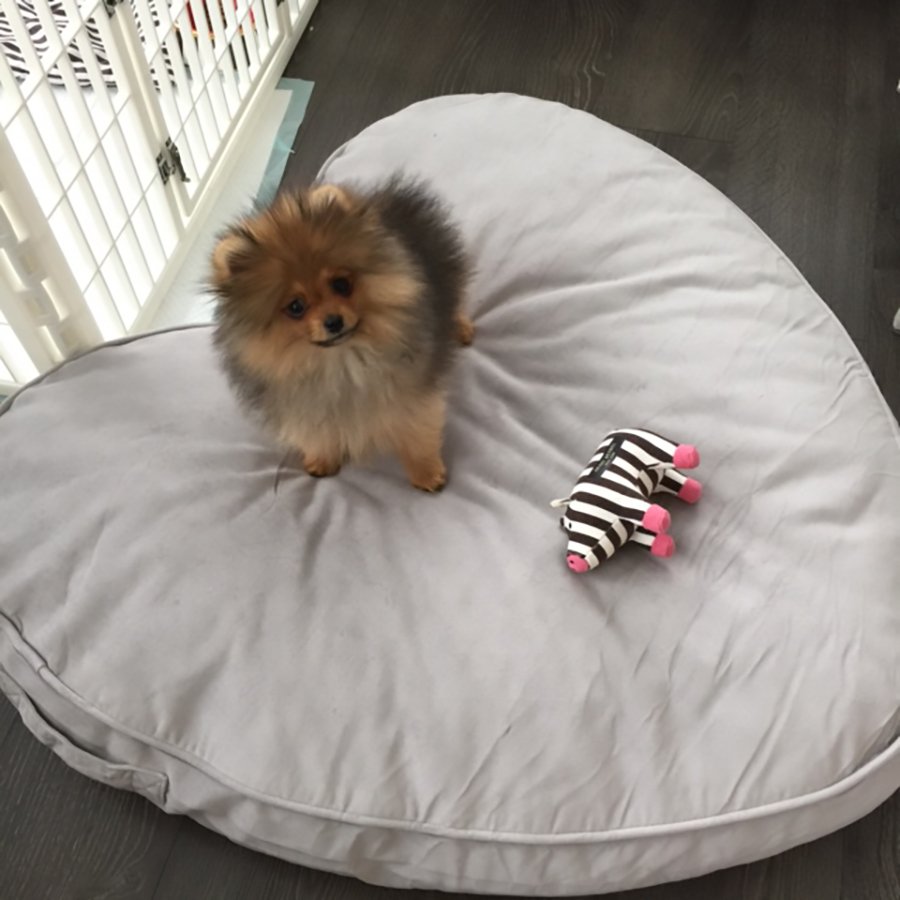 Directions
1. Combine the cereal and broth in a large bowl and soak for 10 minutes. Add the flour, banana, beef and egg and mix until well combined.
2. Dollop tablespoon-sized pieces of dough onto a baking sheet lined with parchment paper and bake at 350F for 15-18 minutes. Cool completely, then serve them to your puppy! These can be placed in a freezer bag and stored in the freezer for up to 3 months.
Sardine and Oatmeal Dog Bones
Ingredients
2 large eggs
3 cups quick-cooking oatmeal
1 cup smooth, organic peanut butter
½ cup canned sardines, drained
½ cup hot water
Directions
1. Place the eggs, oatmeal, peanut butter, sardines and hot water in a blender and pulse until smooth. Alternatively, knead together in a large bowl (the mixture is quite thick).
2. Press the dough into a bone-shaped silicone mold. Bake at 325F for 15-18 minutes or until firm. Cool completely, then serve to your puppy! These can be placed in a freezer bag and stored in the freezer for up to 3 months.
Click here to shop our new pet designs!